Change an Account Password using Windows 8
Before changing your account password, please setup and enroll in UCSF's self-service account management tool (PW Manage) at pwmanage.ucsf.edu.  After enrolling on this site, you will be able to unlock your account and reset your password (should you forget the current account password).  This tool can also be used to change your password in lieu of the steps listed below.
Instructions on how to use the self-service password manager can be found online at  /services/ucsf-active-directory-account-manager.
Changing your Password on Windows 8
Press the Ctrl + Alt + Delete buttons on your keyboard.
From the preceding screen, select the "Change a password…" option.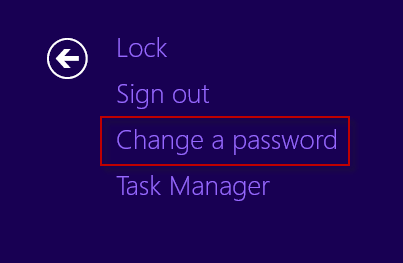 After selecting to "Change a password.." you will be prompted to enter:

Your user name (this field may be prepopulated)
The "Old password" for your account (please note, the "Old password" is the current password for your account)
The "New password" you want to set for your account (following IT's standards for "Choosing a Good Password")
And to retype your "New password" in the "Confirm password" field
Then click the Arrow button to apply the changes you have just made to your account.
Please note – there are three different domains at UCSF.  They are CAMPUS, UCSFMC, and SOM.  If you are not logged into the computer and your username is not prepopulated into the user name field, you will need to enter the domain in which your account resides into the user name field.  Example:
ucsfmc\username
campus\username
SOM\username
If your password change was successful, you will see the following message: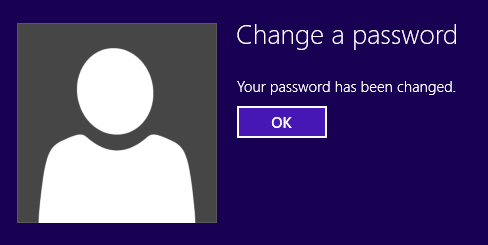 If you do not receive the message above, then your password change was not successful.
Common Errors:
In order for the password change to be successful, you must ensure that what you are typing in the "New password" field matches your entry in the "Confirm password" field.  If these entries do not match, you will see the following error (clicking the OK button will take you back to the Change Password screen).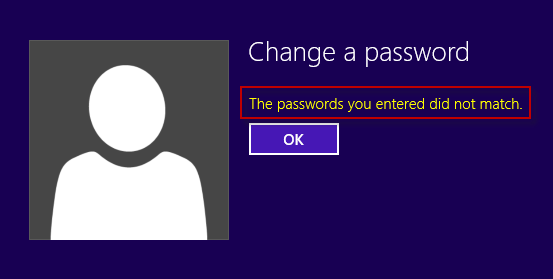 Your new password MUST meet our password standards as outlined in the UCSF Unified Password Standard.  If your password does not meet our minimum security standards, you will see the error below and your new password will not be accepted (clicking OK will direct you back to the Change Password screen to enter a new password).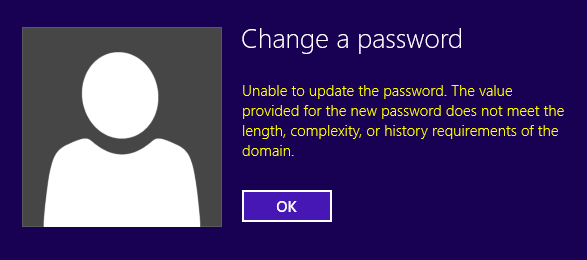 After updating your password, it is extremely important to update any device that is has your password saved such as cell phones, laptops, mapped drives, websites, wireless connections, etc.  If you notice your account getting locked out after resetting your password, you will need to find the device or software with the stored password and update it.  IT only has limited functionality in finding where bad password attempts are originating.