Obtain and Send Full Email Headers
Why is this information needed?
The majority of email programs shows only the basic header information which consists of To:, From:, Subject:, and Date:. This information can easily be forged. Hiding inside of every email is an extended email message header (from this point forward it will be referred to as extended header), which contains details about the sender, route and receiver.
How to obtain extended e-mail headers
1. In addition to a copy of the email, IT will need the full email headers from the original email where your name and email address is listed in the "TO:" field.
2. The steps to view an extended header vary between mail clients.
The following are just a few of the most used email systems at UCSF:
a. Microsoft Outlook 2010, 2013, and 2016
1. In an open email message, click the File tab.
2. On the Info tab, click Properties.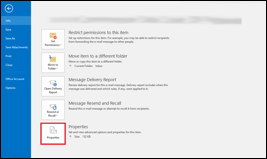 Header information appears in the Internet headers box:
3. Copy and paste the information into a Service Now Ticket.
b. Outlook for Mac
1. Right-click on the message in the mailbox and
2. Choose View Source.
This will open the full source of the message, including headers, in a new TextEdit document.
3. Copy and paste the information into a Service Now Ticket.
1. Log into Outlook on the web.
2. Go to Outlook.
3. Select the message you want to view the headers of and open it.
4. Within the preview pane, click on the drop down arrow next to the "Reply/Reply All" to view menu items.
5. Select "View message details".
6. The 'Message details' window will appear containing the header information of the message.
7. Copy and paste the information into a Service Now Ticket.
d. Apple Mail
1. Start by selecting the message
2. Click on "View"
3. Select "Message"
4. Select "Long Headers"
5. Copy the text and send it to the service desk in a Service Now Ticket.