Windows 7 Project: Windows XP Pop-up Alert
Beginning Wednesday, May 21, the Windows 7 project team will deploy a pop-up alert to all eligible, non-exempt, Windows XP Medical Center computers (see Figure 1). The pop-up requires customers to enter specific location information for the computer they are working on. This information will help the project team locate devices that are difficult to find and migrate them to Windows 7.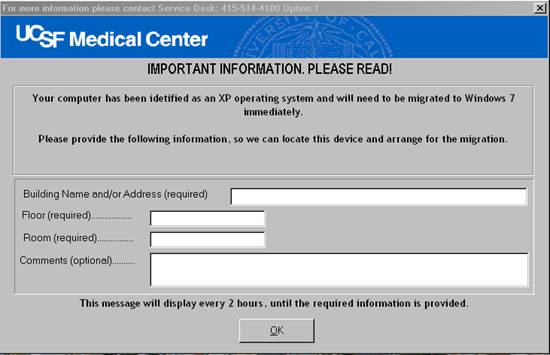 Figure 1 
Additional Information  
Users can click "OK" to dismiss the window, and it will re-appear after two hours, prompting for the information
Once a user provides the required information the pop-up will cease
If incorrect/incomplete information is provided, the pop-up window will reappear
Once the information has been provided, the information will be sent to UCSF IT so we can schedule the upgrade of the system
This message will NOT be displayed on any Windows 7 hosts, or campus hosts
If you have any questions, please contact the IT Service Desk at 415-514-4100.
Migration Status