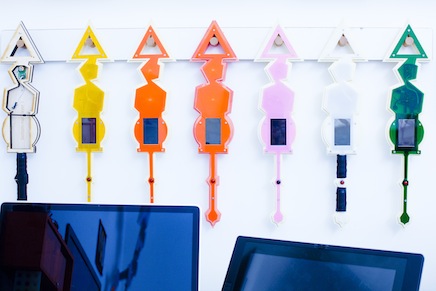 Dear Colleagues,
Please join me in congratulating our newest UCSF IT leaders: David Dobbs and Patrick Phelan and key business partner, Linda Branagan, who now reports to Dr. Seth Bokser, Medical Director for IT in the Medical Center. Each of these individuals brings a unique set of experiences and depth in their areas of expertise, and I am so pleased to have them as a resource leading and partnering with our organization. For those of you who may have missed meeting them at the recent Town Hall, here's an overview of their new roles with insights into their priorities in the coming months and years.
Linda Branagan, Director of Telehealth Programs, Medical Center
An 11-year telehealth veteran, Linda will lead the Telehealth Resource Center which provides information, assistance and operational support to clinical programs using, or hoping to use, telehealth to provide patient care and conduct clinical activities. In this role, she will report to Dr. Seth Bokser, the Medical Director for IT in the Medical Center and work closely with our team as well.
Linda's immediate priorities will be to ensure the successful deployment of three flagship telehealth programs at UCSF, all which involve real-time video interaction: Inpatient teleconsultation between Parnassus and Mission Bay, provide new access for UCSF Destination Programs, and access to UCSF's Benioff Children's Hospital for outlying hospitals in Northern California. Linda is also available as a resource to provide information and assistance regarding clinical workflows, reimbursement, technology and UCSF's policies for telehealth to anyone within the enterprise.
A longtime resident of the Inner Sunset, Linda can often be found running in Golden Gate Park or enjoying the view from atop Turtle Hill.
David Dobbs, Executive Director, Data Warehousing and Analytics
An East Coast native, David joins our team from Atlanta where he most recently led a health data integration and analytics practice for Science Applications International Corporation (SAIC) and its subsidiary, Leidos Health, for the last 11 years. At UCSF, David will lead our team's efforts to build a networked Enterprise Data Management (EDM) system that enables clinicians, researchers, educators, and financial/administrative staff to have access to timely and high quality data needed to develop innovative, collaborative approaches that support our three missions.
With work already underway on this multi-year project, David's Enterprise Data Warehousing and Analytics (EDWA) team will start by implementing a Master Data and Metadata Management System that will allow us to inventory and provide discovery capabilities for the data sources and reporting as well as analytics across UCSF. The project will also link key concepts – such as a patient, staff member and department – across clinical, education and research systems so that new insights can be gleaned into how to best leverage technology so that we can fulfill our missions' work together. The EDWA team will develop and implement an enterprise-wide data architecture plan that proactively manages data across UCSF, positioning the enterprise to leverage data as an important differentiator among academic health systems and as a critical driver of precision medicine.
When not working on data warehousing and analytics issues, David enjoys running and spending time with his wife, Sylvia, and his three children - Ana Julia, Daniel and Virginia.
Patrick Phelan, Director, IT Services Security
A 16-year veteran of UCSF, Patrick steps into the Information Security Director position after serving in an interim capacity since January. With data security a critical priority for UCSF, Patrick is charged with protecting the confidentiality, integrity, and availability of the enterprise's information resources. Priorities of the security program Pat will expand and oversee include bolstering preventive security measures in light of increasing network-based attacks on healthcare organizations. Pat will also earmark significant time and resources to advance online security compliance with regulatory requirements at UCSF.
He holds a number of information security certifications including the Certified Information Systems Security Professional (CISSP) and Certified Information Security Manager (CISM) designations. Patrick earned a BS in Computer Science from UCLA. When he's not reading about the latest security vulnerabilities, you will find him scouring used record stores.
Please join me in welcoming each of these folks to their new role.
Thank you all,
Joe