From the CIO - March 2015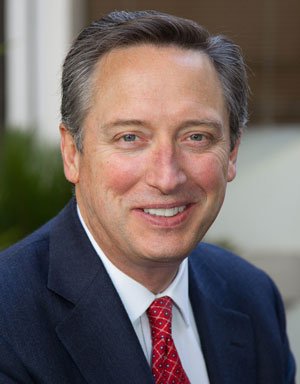 UCSF Community,
The opening of the UCSF Medical Center at Mission Bay stands tall among recent contributions from the UCSF IT team and, with some of the world's most leading-edge technology, exemplifies the power of strong collaboration between IT and our clinical, research and education business partners. Please be sure to read about some of the new technologies supporting this incredible new facility.
Also our Enterprise Data Warehousing & Analytics Team continues to leverage data from across our institution and have recently launched two new dashboards that will help assess student performance and help save patient lives. Finally, we continue to step up our data protection and information security measures across the enterprise, while rolling out a new virtual private network (VPN) throughout UCSF.
Please take a few minutes to read more updates from IT below.
Thank you,
Joe Bengfort
Chief Information Officer, UCSF
Mission Bay: The Future of Technology & Patient Care
With big expectations and artistic freedom, the Mission Bay Hospitals IT Program Team worked collaboratively with clinical operations to identify needs and develop and implement innovative solutions that would make UCSF Medical Center at Mission Bay a world-class, high-tech health care facility. By not playing it safe, but taking some risk on new technology, IT delivered high-tech tools with a "wow" factor that allow UCSF's faculty and staff to provide the best possible care. Learn more about Robots in action, our custom Interactive Patient Care system and how UCSF is using smartphones in the delivery of health care [1].
Data Warehousing & Analytics: Harnessing Metrics That Matter
The Enterprise Data Warehousing & Analytics Team recently launched two new dashboards designed to capture metrics that are important to monitor costs, quality, performance and outcomes in various departments throughout UCSF. Learn more about how IT is building these customized measurement tools [2].
Security Enhancements: Critical Initiatives Underway
As you have seen in the news, attacks on IT systems are increasing in volume, reach and impact nationwide. Think Sony, Target and Anthem. To keep one step ahead of cyber criminals, IT has expanded and fast-tracked numerous security initiatives aimed at strengthening our cyber borders, ensuring only encrypted devices access our network and upgrading our Virtual Private Network (VPN).
Virtual Private Network (VPN): Get ready for a new, upgraded and more secure version of Virtual Private Network (VPN) at UCSF. If you are a current, or soon-to-be VPN user, take a few minutes to meet your new VPN [3].
Border Firewall Enhancement: The first lines of defense from attacks via the Internet are the border firewalls UCSF has put in place. These firewalls are one component in our "defense-in-depth" strategy for preventing attacks on our resources and allowing legitimate access to the UCSF network. To read about our expanded Firewall efforts in 2015, visit http://secureborder.ucsf.edu [4] (Site available only on UCSF network.)
Encryption: In 2014 UCSF IT began expanding its enterprise-wide encryption program with the goal of ensuring that all computers, including laptops, desktops and personal machines used to conduct UCSF business, be encrypted by August 2015. To ensure awareness across UCSF and to answer questions, IT distributed encrypted flash drives at recent Town Hall meetings (March 9 & 11). Further events planned to promote encryption and distribute hundreds of encrypted thumb drives will take place at the following locations – join us to learn more:
· Parnassus Med Science lobby 4/22 9am-Noon
· Laurel Heights main lobby 4/23 11am-1pm
· Mt Zion lobby 4/27 11am-1pm
· MB Gen Atrium 4/29 9am-Noon
For more information on the encryption efforts and to view the recorded Town Halls, visit: http://it.ucsf.edu/projects/encryption-project [5]
Other IT News
Sautter Awards: Now Accepting Nominations
Join your colleagues across UCSF who are submitting nominations for the 2015 Larry L. Sautter Award for Innovation in Information Technology. Click here [6] to learn about the Sautter Awards and how to submit a project on behalf of UCSF (deadline May 15, 2015).
Retirement of Internet Explorer 8
Microsoft has announced that end of life support for Internet Explorer 8 (IE8) will occur on January 12, 2016. UCSF IT is developing guidance for upgrading to Internet Explorer 11 in the coming months. If you are an application owner, it is highly recommended that you upgrade or retire any applications that require IE8. By January 2016 IT Field Services (ITFS) will update to Internet Explorer 11. Currently, all ITFS Windows managed computers have Chrome and Firefox installed as alternate browsers. Please direct questions to [email protected] [7]. Important note: There are a number of applications that still depend on IE8 to function correctly; most importantly is APeX, our Electronic Medical Records system. In future IT updates you will hear more about plans for upgrading the APeX system.
Favorite Apps
Health: If you have an iPhone 5s or iPhone 6, check out the built-in Apple Health app. It'll tell you how many steps and miles you've walked, without requiring anything other than your phone. Free with phone.
PaybyPhone [8]: This free app is great for parking meter payment; it's a lifesaver when you're stuck somewhere and need to extend your parking meter. Parking costs are charged to your credit card.
iBIRD ULTIMATE Guide to Birds [9]: For the ultimate bird watcher, this is the most powerful smartphone-based field guide to birds, with over a half-million downloads. $9.99
Gyft [10]: Mobile gift card app where you can easily upload, buy, send, and redeem gift cards in stores or online. Free.