Enterprise Information Management & Analytics: Advancing Population Health and Accountable Care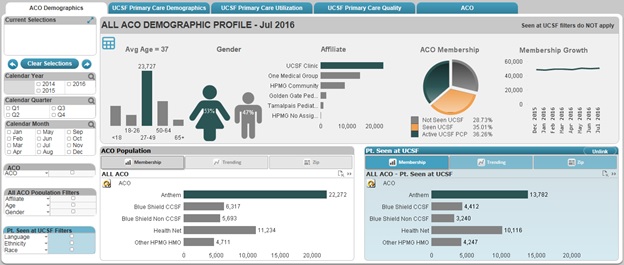 Healthcare is moving away from traditional fee-for-service models—where each service is paid for separately—to value-based models such as bundled payments (e.g., a flat fee for a hip replacement) or capitation, where a set monthly amount is paid for each enrolled person whether or not that person seeks care. These payment models shift the financial risk for managing patient care from payers to health service providers, such as UCSF.

The UCSF Office of Population Health and Accountable Care (OPHAC [1]) is responsible for helping UCSF develop the internal infrastructure and patient management capabilities to successfully transition to these value-based payment models. As part of this effort, OPHAC partnered with the Enterprise Information and Analytics (EIA) department to develop analytical tools to better understand the dynamics of the patient populations for UCSF's Accountable Care Organization (ACO) contracts and our Primary Care patient population. The result of this collaboration is the Population Health and Accountable Care Dashboard (PopDash).
PopDash has five tabs focusing on different types of analyses:
 
ACO Demographics tab – a view of the demographic make-up of the 4 ACOs UCSF participates in and one alternative payment methodology HMO. This is presented from the perspective of the ACO using payer provided data matched with UCSF patient data where it exists.
ACO tab – shows the Per Member Per Month payment trend for all our ACOs in one place and makes it possible to look at trends/utilization over time.
UCSF Primary Care Demographics tab – a view of the demographic makeup of our Primary Care population, with additional growth and access metrics.
UCSF Primary Care Utilization tab – a view of our Primary Care population's hospital (inpatient, observation and emergency department) usage with intraday patterns of emergency department usage.
UCSF Primary Care Quality tab – a view of key quality metrics of our Primary Care Providers.
In the words of Dr. Ami Parekh [2], Executive Medical Director of OPHAC:

"The launching of PopDash represents a number of huge advances and leaps for UCSF Health:
We are incorporating external source data into our understanding of patient care (Claims and Payer data) and matching that data with ­­EHR-based clinical data to give a significantly better picture of how our patients interact with the system. This is truly getting at the holy grail of data integration for precision management of patients and populations.
We are able to understand quality and utilization data from a population perspective and can see differences between large populations where we have financial risk for the total cost of care. This has never been done in a sustainable and reliable way in the past.
We can discover new insights on what drives costs of care and how patient behavior and clinic/provider accessibility may drive utilization and opportunities for improvement.
While there is much more to learn and do with data and analytics to truly make an impact on population health outcomes and decrease total costs of care at a total cost level, launching PopDash has helped our institution take a fundamental first step at data aggregation and presentation in order to begin to position ourselves for more alternative payment models in the future."