Configure Outlook for Mac to Access UCSF Exchange Online
UCSF VPN Requirement
Access to your UCSF Exchange Online account from outside of the UCSF network through Microsoft Outlook for Mac requires using a UCSF virtual private network (VPN) connection
Click here

[1]

for instructions on how to download and install the UCSF VPN client
More information on the UCSF VPN requirement can be found here

[2]
New Installations of Microsoft Office for Mac
If Microsoft Outlook was just installed, then the Setup Assistant should automatically open and you should be prompted to activate Office for Mac. Click Get Started then click Sign In to continue.
Enter your UCSF email address when prompted to and click Next
Enter your UCSF Exchange Online credentials with your username in the format [email protected] ucsf.edu and click Sign In
Microsoft Outlook for Mac will verify your credentials and retrieve a license from UCSF Exchange Online
Click Start Using Outlook to continue after activation completes
Next, Outlook for Mac will automatically detect your UCSF Exchange Online account. Click Add first.last@ ucsf.edu (your UCSF email address will be displayed here) to setup your account

Outlook for Mac will configure Outlook for Mac to use your UCSF email, calendar, and address book
Click Done to close the Setup Assistant. Outlook for Mac is now configured to access your UCSF Exchange Online account.
Existing Installations of Microsoft Office for Mac
Open Account Settings
If you already have Microsoft Office for Mac installed and activated with a valid license, you can add your UCSF Exchange Online account through the Accounts menu in Outlook Preferences
Click Outlook in the menu bar at the top left corner of the screen, then select Preferences and choose the Accounts option from the menu under Personal Settings
​
​
Add A New Exchange Account
Add an Exchange Account by clicking the Exchange or Office 365 button in the Accounts menu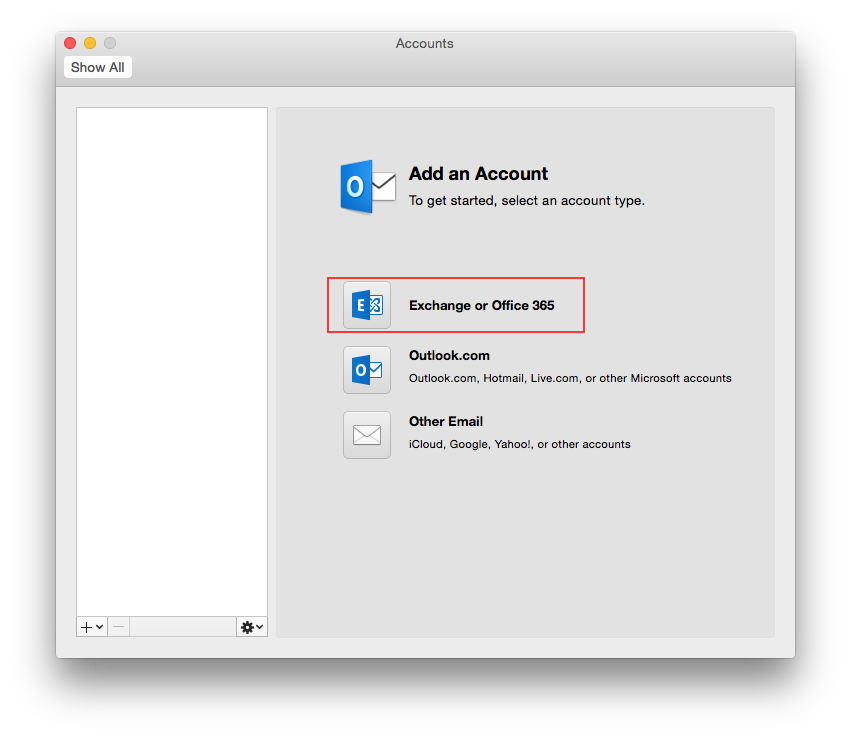 Enter Account Credentials
Enter your account information in the Accounts dialog box:

E-mail address: Enter your UCSF email address
Authentication Method Select User Name and Password from the drop down menu
Enter your UCSF email username using the format 

[email protected]

[3]

Enter your UCSF email password
Check the box Configure Automatically
Click the Add Account button
​
​
Advanced Settings
From the Accounts settings window click the Advanced... button in the bottom right


Verify that the following Server settings are configured:


Microsoft Exchange Server is set to: https://outlook.office365.com/EWS/Exchange.asmx

[4]

Directory service Server is set to: netdirectory.ucsf.edu
Use SSL to connect is checked under both Microsoft Exchange and Directory Service
Login with my Exchange account credentials is checked under Directory Service

Click the OK button
Finishing Up
Close the Accounts settings window
If you are prompted for your account credentials again, enter your UCSF Exchange Online credentials with the username in the format 

[email protected]

[3]

Outlook for Mac is now configured to access your UCSF Exchange Online account
Required Service Information
Images