Troubleshooting
My mobile device (smartphone, tablet) isn't sending or receiving email. How do I fix this?
Validate that your username is set to your primary email address (e.g. [email protected] [1]) and that your server is set to "outlook.office365.com".
I repeatedly receive a pop-up window "Outlook was redirected to the server ... Do you want to allow this server to configure your settings?" How can I make this stop?
Click the box for "Always use my response for this server" then click "Allow".

I am using Apple Mail, and I am frequently disconnected from email and need to reenter my password.
There is a known issue Apple/Mac Mail users working remotely. Please call the Service Desk at 415.514.4100 for assistance.
If you're an advanced technical user, we have discovered a temporary workaround which involves turning off IPv6. Should you turn off IPv6, please consider this a temporary workaround while we investigate a permanent fix.
I cannot access email; I get "Your sign in was blocked" error. How do I resolve this?
You are likely getting this error because you are attempting to access email via Outlook or Apple Mail (or other fat email clients such as Thunderbird or Evolution) from an external network. You need to launch VPN (Pulse) to connect and use Outlook (or other full email clients such as Apple Mail). If launching VPN does not resolve the issue, please call the Service Desk at 415.514.4100. Alternatively, you can use a web browser to connect to [2][email protected] [3] without launching VPN.
I'm on an external network (e.g. home) and I've launched VPN (Pulse), but my Outlook client isn't sending/receiving. What should I do?
Double-check that you're VPN/Pulse session is still connected. If not, reconnect to VPN/Pulse. If you're connected and still can't send/receive, close Outlook and then reopen/restart Outlook. If this doesn't resolve the issue, please call the Service Desk at 415.514.4100. Alternatively, you can use a web browser to connect to [email protected] [4] without launching VPN.
Why do I not have permissions to set an Out of Office message?
There is a delay of up to one business day post migration to the cloud before you can set an Out of Office message. The delay is because license keys need to be applied to your account in the cloud, and the keys are applied after all mailboxes in the migration group have successfully moved to the cloud. If it's been more than one business day, please contact the IT Service Desk for assistance at 415.514.4100.
Why can't I view Public Folders?
Public Folders can be viewed via Outlook* clients and OWA (Outlook Web Access). In order to view them via OWA, you must first add them to your folder list; instructions are below.
*Note: Outlook for Mac 2011 and 2016 clients cannot view public folder calendars; this is reportedly being resolved in the next update to Outlook for Mac  (no ETA from Microsoft). Mac clients can view public folder calendars via OWA.
To view Public Folders in OWA, follow these instructions to add them to your folder list.
1. Log into Outlook Web App [5].
2. Right-click (control-click for Mac users) Favorites (under Folders) and select Add public folder.
3. Click on the carrot to the left of ucsf.edu to expand the folder list.
4. Click on the public folder you desire, then click the star at the top of the screen next to Add to Favorites.
*Note: Unfortunately, public folders can only be added one at a time, so you will have to do this for select each folder you want to add and then click on the star next to Add to Favorites.
5. Click the X in the upper right to close out the folder list. You should now see the Public Folders in your folder list.
*Note: If you added a Public Folder Calendar, it is viewable from the Calendar (not Mail) view (click on the Calendar icon).

To add Public Folders as Favorites in Outlook (instructions may vary slightly depending on your version of Outlook):
Navigate to the [Folder List] view in Outlook.
Navigate to any public folder, right click, then select "Add to Favorites".
Still in the [Folder List] view, go to [-] Public Folders >> Favorites >> XYZFavorite.
Why do I frequently receive meeting invitations forwarded on behalf of someone other than the meeting organizer?
There have been multiple reports of customers receiving forwarded meeting invitations that have not come from the meeting organizer. This forwarding issue is a "known issue" as documented on this Microsoft blog post [6] that affects all customers with iOS devices (iPhones and iPads) connecting to Exchange Online using an "Exchange" (ActiveSync) connection that use calendaring. Apple is working on a fix for this reported issue, but there is no release date at this time.
Although there is no global Exchange Online setting to fix this problem for all connected iOS devices, here are a couple of available workarounds (from the above blog):
Move the location of the meeting from the Location field into the body of the calendar event.
Disable the "Time to Leave" feature under the "Settings > Calendar > Default Alert times" commands.
Service
What is the Mailbox Size after we migrate?
100 GB
How do I access email from a web browser (also known as

[email protected]

[7]

and Outlook Web App (OWA))?
To login to Outlook Web App (OWA), go to https://email.ucsf.edu [4]
Note: Your username is now your primary email address (e.g. [email protected] [1]); your password remains the same.
How do I update Global Distribution Lists?
On the new system, you manage your Distribution Lists through a new web portal at http://dledit.ucsf.edu [8]. Instructions for navigating through this new portal are published on our Email Online Dl Management [9] page.
How do I turn off conversation view in Web mail?
Click on your Inbox under "Folders", then click on "Filter", then "Show As"... and select "Messages" instead of "Conversations".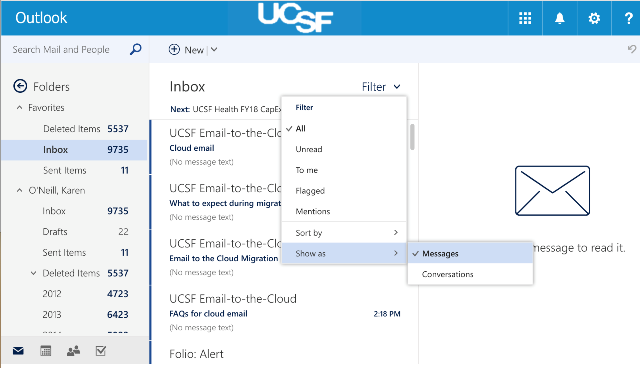 Which services of the Microsoft Office 365 suite are enabled?
As part of this project, the following Office 365 services are enabled:
| Service | Description |
| --- | --- |
| Exchange Online | 100 GB mailboxes, calendaring, public folders, etc. |
| Office 365 ProPlus | Downloadable Full Version of Microsoft Office Suite for PC and Mac [runs locally on user's computer] |
None of the other Microsoft Office 365 services such as OneDrive, SharePoint Online, Skype for Business, Project Online, Yammer, etc. will be enabled at this time.
UCSF IT may consider enabling other services in the future.
Email Clients
Which clients are currently supported for UCSF Email Online?
Windows

Mac

Exchange ActiveSync
 

Outlook 2016
(Recommended)
Outlook 2013
Outlook 2010
Service Pack 2
with
Version 14.0.7147
or higher

Outlook for Mac 2016
(Recommended)
Outlook for Mac 2011
Apple Mail
How do I get Office 2016 for Mac or Windows?
Please visit this Link [15] for more info.
Required Service Information
Images