Box Sync is an application which lets you access folders and content offline. All synced folders are stored locally on the hard drive as well as in Box. Box Sync is great for streamlining workflows, but it does consume local storage. Users should only sync the folders and content they work with on a daily basis.
When you first install Box Sync, it will be empty until you designate some folders to sync. For information on how to designate folders to sync, visit Syncing with Box Sync. [1]
Latest versions of Box Sync: [1]
Supported Operating Systems: [1]
Anything not listed above is not supported. For an up-to-date list of supported operating systems, visit [1]here [2].
Box Sync Guides
---
Box Sync Best Practices
---

Syncing a large number of files and folders can degrade how well Box Sync works and also impact your computer's performance by increasing hard disk usage and bandwidth. This can also lead to files being duplicated on Box.
To unsync folders that you don't need to access via Box Sync on your desktop, log into your Box account via a web browser, select the

options icon for that folder, scroll down to
Properties
, and then select
Unsync
.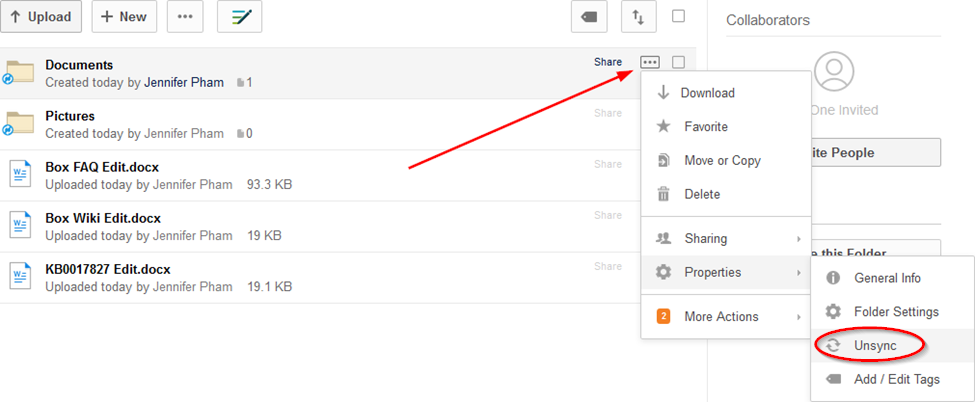 If you reimage your computer, do NOT upload your backed up files. Allow Box Sync to naturally sync the files from your UCSF Box account into your Box Sync folder on its own. If you drag and drop a backup of your files to your Box Sync folder, it will create duplicates that look like
filename-(user's email address)
.

Having a lot of errors can prevent other files from syncing. Try to regularly clear your Box Sync errors by following the resolutions provided in 
Errors with Box Sync
[4]
.
Box Sync Tips and Tricks
---

When dragging files out of your Box Sync folder, it will move the same file from your Box account into your
Box Trash
[7]
.
Required Service Information
Images