Workflow decisions - before sending
To prepare to send a document, first document your current business process, noting roles, signature and data entry, and workflow.  Then, in order to transition to DocuSign, consider the following questions:
1.  Is this a one-time workflow or is this a process that is repeated often?  
If it is a recurring process, you should create a template so that the workflow is hardcoded.  You can hardcode the document/form, the recipients if desired, and the tags on the document. See here for more information. 
2. What is the current workflow for this signing process?
Document the current workflow so that you and your team can determine how to best utilize DocuSign.  There might be redundant steps that are no longer needed once signing is electronic and workflow is automated.  
3. What role does each person have in that process? 
Someone who is signing or inputting ANY information onto a form or document - DocuSign sign role
Someone who is reviewing a document but does not have any need to edit or comment on it -DocuSign  receive a copy role
Someone who needs to decide who the next recipients will be and might also add additional documents - DocuSign manage envelope role
Note that all recipients, regardless of role, will automaticaly recieve an email with a link to the signed document when it is completed.  This does not need to be in the workflow.
Note that DocuSign will automatically route from one person to the next - you do not need to forward the DocuSign email with a signature link to the next person.
4. Do you want the signers to decide where on the page(s) their name/signature/initias/date signed/other information goes or do you want to designate the locations and types of fields in advance?
If you want to leave the data/signature input up to the signer, you can send straight from the initial sending screen and the signer will see a drag-and-drop pad and can place the appropriate information in the appropriate spot: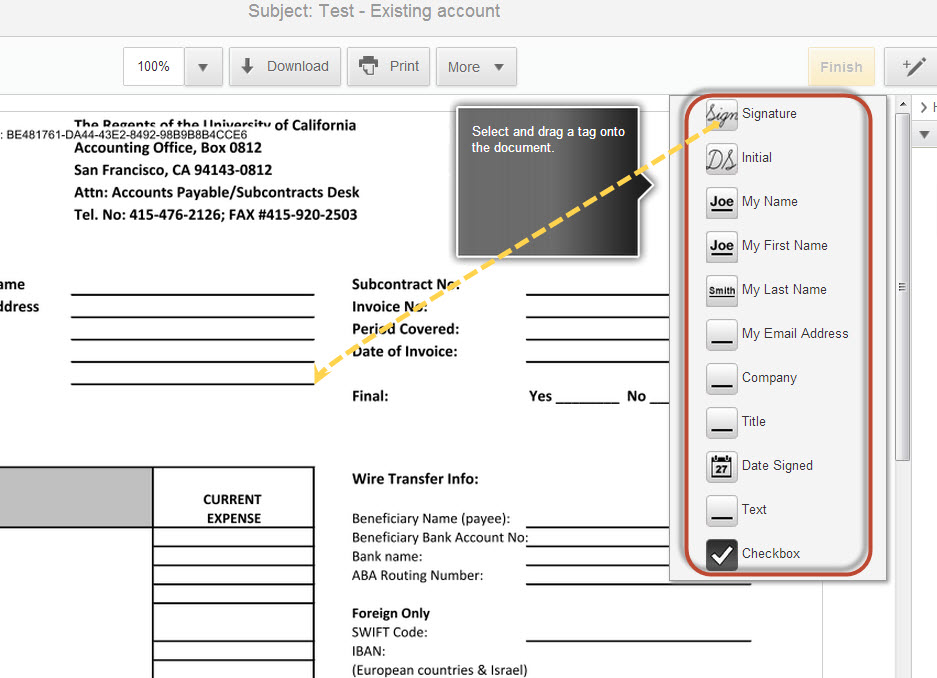 Otherwise, you can place tags to designate the appropriate places to sign or enter other data.  See the sending page for more on taggging.