ITFS Software Offer - CrashPlan
ITFS Software Offer - CrashPlan
(ITFS Supported Users Only)
---
What's Happening?
IT Field Services provides CrashPlan for the continuous backup of your data within your user profile (Desktop, My Documents, etc) on your ITFS supported workstations and features simple self-service data restores.
What Do I Need to Do?
Windows:
Crashplan will be automatically deployed to your workstation remotely once you select the BigFix (IBM Endpoint Manager) offer.
Open the IBM Endpoint Manager Support Center.
Select "Offer" tab.
Select "CrashPlan for Windows (ITFS Customers)" and click on "Accept".
After CrashPlan has been installed, you will be prompted to enter your domain password to log into the CrashPlan client..
Verify your username.
Enter your password: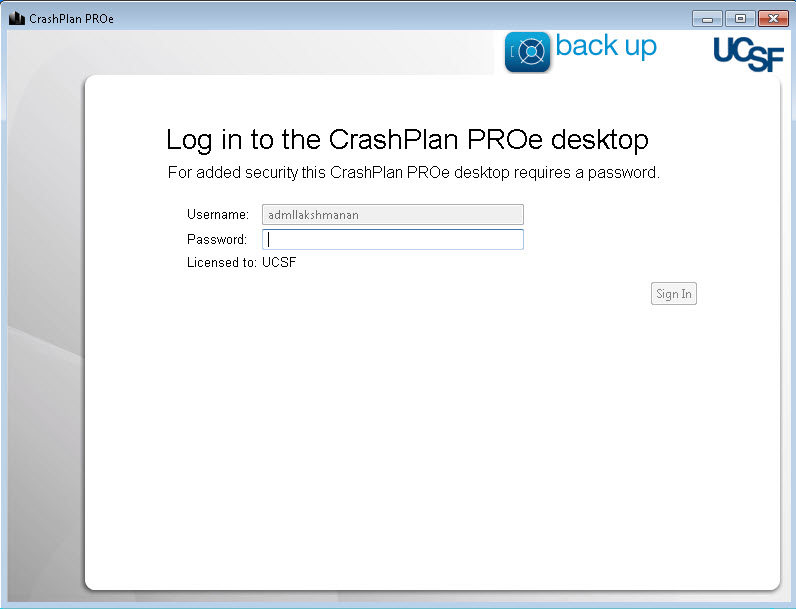 Mac:
Save all your work and exit all other applications.
From Finder, go to the Applications folder, then open Utilities
Launch "Self Service.app" and login using your Active Directory credentials
If CrashPlan is available for your computer, you should see the option to "Install CrashPlan" on the front page of Self Service:
Click "Install" to install the UCSF CrashPlan client
When the installation is complete, CrashPlan will automatically open and prompt the customer for their password as shown above.
FAQ:
What password do I use?
Use your Active Directory password. (aka- Email, computer, or network password.)
How can I check the status of my backup?
Double-click the CrashPlan icon in your taskbar.
Enter your password.
What does Crashlan backup?
CrashPlan does not backs up the entire hard drive, only the data within your user profile.
To verify, press the Change… button on the application window.
I am having trouble with the application. What do I do?
Please call the IT Service Desk at 514-4100 or submit an on-line service request at http://help.ucsf.edu
More Information: Click here