UCSFwpa Instructions - Mac OS X
Apple MacOS X detects and auto-configures most of the settings needed when connecting to UCSFwpa providing a quick and easy connection. Some user input is required to complete the process and the following steps will help you connect.
Select the Network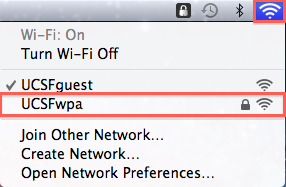 Click on the wireless icon in the top right hand corner of the MacOS X title bar and select UCSFwpa from the list of available wireless networks.
Set Your Username and Password
You will be prompted for your username and password to Authenticate to the network "UCSFwpa". Enter your AD/[email protected] username and password in their respective fields. Your username can be uses as just the name (jsmith) or with the domain (domain/jsmith).
Then click the Join button to connect to start your wireless connection
View the Certificate
Next, you will be presented with a dialog box telling you that even though you have been given a valid security certificate your computer does not explicitly trust it.
Click Show Certificate button to view the security certificate.
Accept the Certificate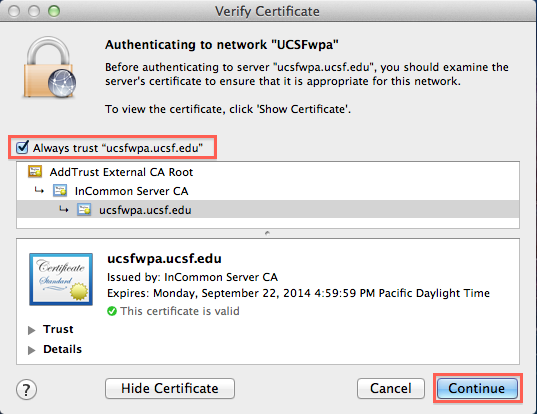 On the verify certificate window the certificate should display the server name: ucsfwpa.ucsf.edu along with the Issued by of InCommon. If any other name is listed click Cancel and verify you are connecting to the UCSFwpa. If you continue to receive an incorrect server name please report your problem to Customer Support.
Verify that the box next to Always trust "ucsfwpa.ucsf.edu" is checked and click Continue.
Saving the Certificate Trust Settings
You may be prompted for an administrator name and password to save the UCSFwpa certificate.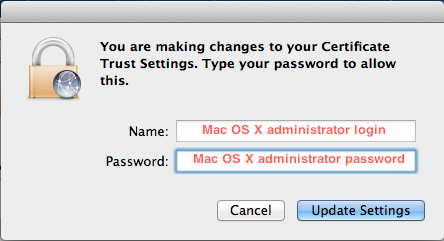 Enter in your Mac OS X administrator account and password, click on Update Settings.
You are Connected!

Congratulations, you have succesfully setup the UCSFwpa wireless network!
Deleting the UCSFwpa connection to setup a new profile
In order to change any of the existing UCSFwpa wireless configuration settings on your device, we recommend first deleting the profile, then reconnecting following the instructions above. To delete your existing UCSFwpa configuration:
Select the WiFi symbol along the top menu bar and click on Open Network Preferences at the bottom of the drop down menu.
Click on WiFi on the left side of the menu and click Advanced (located at the bottom right corner of the pop-up window)
Select the UCSFwpa connection and click the minus sign to delete the network. Once the network is no longer in the list, click OK at the bottom of the window to exit.
Upon deletion, click the Wi-Fi airport to show available Wi-Fi connections. Select UCSFwpa. Enter your Active Directory credentials including the domain in the prompt that follows. The network should automatically detect the proper connection certificates.