Transferring Files from OneDrive to Box
UCSF does
NOT
support OneDrive.  Box is the UCSF official cloud storage solution, which has technical controls to protect PHI.  Until we can provide the same level of protection with OneDrive we can't offer or support it.
This guide helps UCSF users migrate content from OneDrive to UCSF Box. Mac instructions are similar. If you need assistance, please contact the
IT Service Desk.
Install Box Sync onto your computer.
---
Skip if Box Sync is already installed
Log onto your MyAccess Single Sign-On via https://myaccess.ucsf.edu.

If UCSF Box isn't listed, select Manage Favorites to bring up a list of all of the applications you can access via the UCSF Landing Page.

Scroll down to UCSF Box and click on it.

Click the downward arrow next to your name to open up a dropdown window. Click Get Box Sync.

Select Box Sync to install the latest Box Sync version.

Save the installer to your computer.

Install Box Sync. Launch Box Sync after installation.

Select Use Single Sign On (SSO) and enter your UCSF email address. You will be directed to enter your UCSF MyAccess Login. Login with your credentials to complete setup.

Transfer your OneDrive files to Box Sync.
---
Open your Computer's Favorites list. Look for your Box Sync folder.

Create a folder named OneDrive in Box in your Box Sync folder.

Move all files and folders from your OneDrive to the newly created OneDrive in Box folder in your Box Sync.

Move, organize, and re-share migrated files and folders to best suit your needs.

Syncing a large number of files and folders can degrade how well Box Sync works and also impact your computer's performance by increasing hard disk usage and bandwidth. This can also lead to files being duplicated on Box.
To unsync folders that you don't need to access via Box Sync on your desktop, log into your Box account via a web browser, select the

options icon for that folder, scroll down to
Properties
, and then select
Unsync
.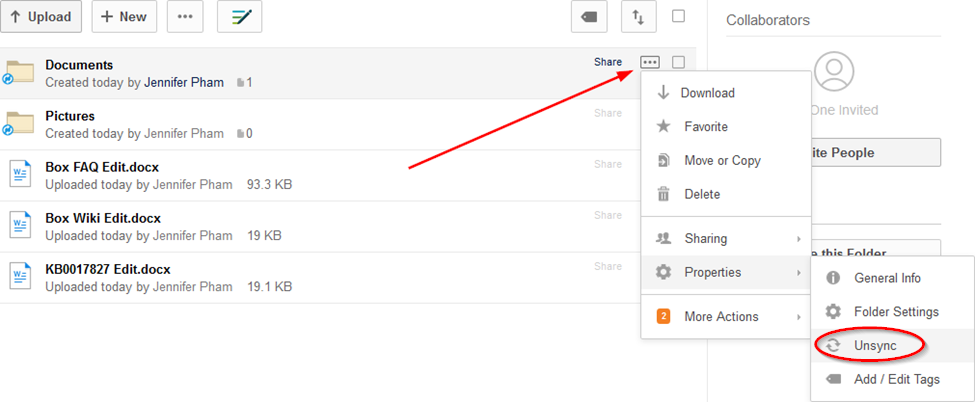 Go BackHomeGo Forward