Add, Edit, or Remove a Collaborator
Only the folder's Owner, Co-owner, or Editor can invite collaborators or change their collaborators' permission levels. For an explanation of the different Permission Levels, click here.
Invite Collaborators
---
Click on the folder you would like to add collaborators to. Click the Invite People button to the right of the page.

Type the name of the collaborator in the Invite text area and select the collaborator's permission level in the Invitee Permissions drop down menu. After you have confirmed your selections, click Send Invites to finalize your selection.

Once you have started to invite collaborators to your folder, they will show up in the Collaborators section.

Edit or Remove a Collaborator's Permission
---
Locate the user in your shared folder and select their permissions level. This will bring up a drop down menu that will allow you to either change or remove the collaborator's permission. You can also remove yourself from a shared folder this way as well.


 If you are the owner of a shared folder, you will also have the option to transfer ownership.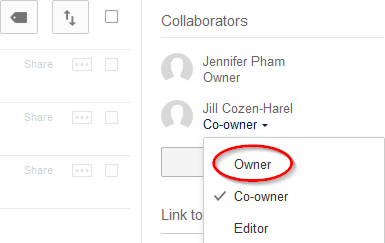 Resources
---
Automated Deprovisioning of UCSF Box Accounts